The congress-operator "MEDI Expo" commemorates its Birthday!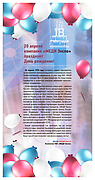 The Russian congress-operator "MEDI Expo" celebrates its birthday on the 20th of April.

Several years ago, in far 1998, on 20 April took place the first event, held by the team of the company and put a starting point of the professional activity. This year the congress-operator "MEDI Expo" marks it's the 18th birthday. That's why the Head and the rest of members of the company accept numerous congratulations and greetings.
In recent years, under the motto "Our goal – healthy Russia" the company "MEDI Expo" has organized more than 250 thematic conferences, conventions, congresses, forums with international participation, which were attended by over 100,000 delegates from Russia, CIS, Europe, America and Asia. Successful regional projects took place in Yekaterinburg, Kazan, Rostov-on-don, Saratov, Sochi, and Gelendzhik. The professional level of the company is confirmed with membership in various professional communities. "MEDI Expo" is a member of the chamber of Commerce and industry of the Russian Federation, The Moscow chamber of Commerce and industry, the Moscow exhibition Guild, the Russian Union of exhibitions and fairs (RUEF), The Global Association of the exhibition industry (UFI), The International Congress and Convention Association (ICCA).
A new corporate year, the company started with the launch of new projects. Receiving the congratulations, the "MEDI Expo" thanks all the many participants for collaboration. Your participation allows our dreams to come true