Topical issues of infectious pathology and vaccine prevention
XX Anniversary Congress of Pediatric Infectious Diseases of Russia with International Participation
Radisson Slavyanskaya Hotel and Business Center
Organising Committee:
Chairman of the congress
Vasily Uchaykin
President of the Association of Pediatric Infectionists, academician of RAS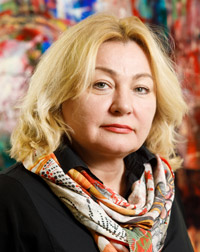 Responsible secretary of the congress
Olga Shamsheva
Head of the Department of Infectious Diseases in Children PF FSAEI HE RNIMU named after N.I. Pirogova of the Ministry of Health of Russia, MD, professor, General director of the ASSOCIATION PEDIATRIC INFECTISTS
The organizers
The Ministry of Health of the Russian Federation
Federal Service for Supervision of Consumer Rights Protection and Human Well-Being
Moscow Department of Health
NP "National Medical Chamber"
FSAEI IN RNIMU named after N.I. Pirogova of the Ministry of Health of Russia
Federal State Budgetary Institution Children's Scientific and Clinical Center for Infectious Diseases of the Federal Medical and Biological Agency, St. Petersburg
FSBEI DPO "Russian Medical Academy of Continuing Professional Education" of the Ministry of Health of Russia
FGAOU VO First MGMU named after Sechenova of the Ministry of Health of Russia (Sechenov University)
FSBI "SSC Institute of Immunology" FMBA of Russia
Faculty of Medicine FSAEI of HE "Peoples' Friendship University of Russia"
FBUN MNIIEM named after G. N. Gabrichevsky Rospotrebnadzor
State Research Institute of Epidemiology and Microbiology named after Honorary Academician N.F. Gamalei of the Russian Academy of Medical Sciences
FSBEI HE SPbSPMU Ministry of Health of Russia
FSBI "Research Institute of Influenza named after A.A. Smorodintseva »Ministry of Health of Russia
Union of Pediatricians of Russia
Association of Pediatric Infectious Diseases
Separate structural unit RUSSIAN CHILDREN'S CLINICAL HOSPITAL of the Federal State Autonomous Educational Institution of Higher Education "Russian National Research Medical University named after N.I. Pirogov "Ministry of Health of Russia
Congress-operator LLC "MEDI Expo"
RegisterFor registration send a message to reg@mediexpo.ru
Exhibition
On the days of the congress, a thematic International Medical Exhibition is being held, during which Russian and foreign companies will present modern medical equipment, new medicines for the diagnosis and treatment of childhood infections.